Featured Animal Rescue:
Robyn's Nest Animal Rescue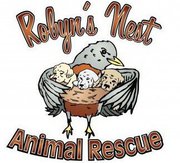 Robyn's Nest founded in 2004, is a small grass roots animal rescue, dedicated to helping the stray, abandoned and abused animals in Nashville and surrounding areas. They are 100% Volunteer run & operated. Their secondary goal is to assist and educate the residents in the area on proper care for their animals. Such as the importance of spaying and neutering your animals and providing your pets with the proper vet care and upkeep, discouraging the tethering of dogs 24/7, their motto is all dogs should be indoor dogs with outdoor privileges. Since November of 2004 over 1800 animals have been rescued.

Visit them on Facebook and tell them that
RESCUED! Is My Favorite Breed. Sent You!
also on the web here: http://www.petfinder.com/shelters/TN577.html
http://www.lacroixtees.com/animal-rescue/RobynsNestAnimalRescue/