Featured Animal Rescue:
Last Chance Animal Rescue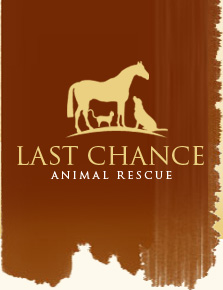 Last Chance Animal Rescue Fund is a 100% volunteer run non-profit organization founded in 2008 by Whitney Knowlton. Their mission is to save animals that are located in "KILL" facilities and underwrite the cost of relocating them to "NO KILL" facilities and foster homes in hopes of finding them a forever family. LCAR depends on donations to save these helpless loving animals from being killed with the goal of saving as many lives as possible.

The primary focus is on animals that are trapped in rural southern shelters, many of whom die each day because of lack of resources and limited chances of local adoption. In these areas animals are rarely spayed/neutered and once pregnant many find themselves abandoned or surrendered to the local shelter. In general preventative health care in not provided so many arrive at the shelter in need of medical treatment for preventable illnesses like heart worm. No matter how they arrive at the shelter these animals have one thing in common, they are generally healthy, adoptable creatures who deserve a loving home and a wonderful life. Regardless of age, breed or general health they try to save as many as they can from death.

Visit them on Facebook and tell them that
RESCUED! Is My Favorite Breed. Sent You!
also on the web here: http://www.lcarescue.org/