Featured SPCA:
Hillside SPCA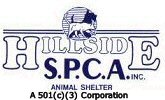 Hillside SPCA, Inc is a Pennsylvania non-profit corporation that provides animal welfare services to all of Schuylkill County, Pennsylvania. The physical and emotional well-being of the animals is the top priority of the Hillside staff. Not confined to small kennels, animals at Hillside run, play, and interact with each other and visitors in large yards and (cat) condos.

Visit them on Facebook and tell them that
RESCUED! Is My Favorite Breed. Sent You!
also on the web here: http://www.hillsidespca.com/