RESCUED! Is My Favorite Breed.
Animal Shelter Dog Book
and COLORING Book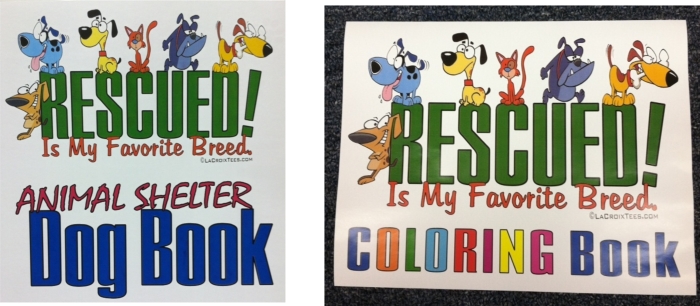 Dog Book Order Page Click Here Coloring Book Order Page Click Here
According to the ASPCA, 3 to 4 million pets are euthanized in the USA every year. This is something that needs to end. The way to stop this is to build up a culture that looks FIRST at shelters and rescue groups, when getting a new pet. The best way to do this is by teaching kids about the importance of pet adoption.
These books are designed to capture kids attention, entertain them, and share a powerful message of pet adoption.
Daycare centers, preschools, kindergartens, elementary schools, pediatricians offices, and veterinarian offices are just some of the places we think our book would have a big impact.
Companies selling breakfast cereal and fast food know just how much a family's decisions can be influenced by young children.
We want to use the same concept,
but in a much more positive direction.
We hope that these books will both educate and influence kids. Maybe if more children are aware of the great pets available in animal shelters, more families will make shelters their FIRST CHOICE when adding a new pet to their family.
Animal Shelter Dog Book info: Click Here
RESCUED! COLORING Book info: Click Here

NOTE: We have Book + Coloring Book combo packs, as well as Book + Coloring Book + Book Bag gift packs. Info can be found towards the bottom of either of the above two pages/links.