Featured Cat Rescue:
Alley Cat Rescue Inc.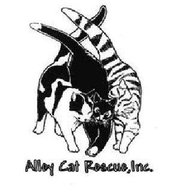 Alley Cat Rescue is helping to solve the crisis and tragedy of unwanted and abandoned cats. Alley Cat Rescue (ACR) works to protect cats on several levels: locally through rescue, rehabilitation and adoption of cats and nationally through a network of Cat Action Teams. ACR is dedicated to the health, well-being and welfare of all cats: domestic, stray, feral and wild. ACR also assists the international animal community.

Visit them on Facebook and tell them that
RESCUED! Is My Favorite Breed. Sent You!
also on the web here: http://www.saveacat.org/
Get the t-shirt here: http://www.lacroixtees.com/animal-rescue/AlleyCatRescue